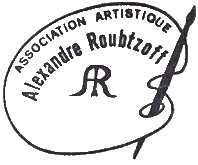 Contact
info@roubtzoff.org
Object
The Artistic Association Alexander Roubtzoff has the following object :
to promote the memory of Alexander Roubtzoff, artist and painter, in a purely philantropic manner, in order to increase the public knowledge about him and give him merited credits through the publication of articles, documents, writings, flyers, exhibitions, conferences, etc...


to defend the moral interests and inheritence of the painter, to monitor and act so that his moral rights are respected in France and everywhere when this right is recognized.


to make use of all possible means and actions in order to conform with the previously mentionned.
Status
The Artistic Association Alexander Roubtzoff is a non-for-profit organisation (1901-type french association), publicly registered in the Official Diary of the Frenh Republic on July 22, 1980, modified September 21, 1994 and September 5, 2003. It is based in Ustaritz, in the south-western region of the french Basque contry.
---
Biography | Bibliography | Art | Presence | Links | News
© A.A.A.R. All rights reserved.